Rainier has the Best NFL Action the way it was meant to be seen.

See it all in Pure 1080 Ultra High Bandwidth HD.



Rainier Satellite is a

U.S. based company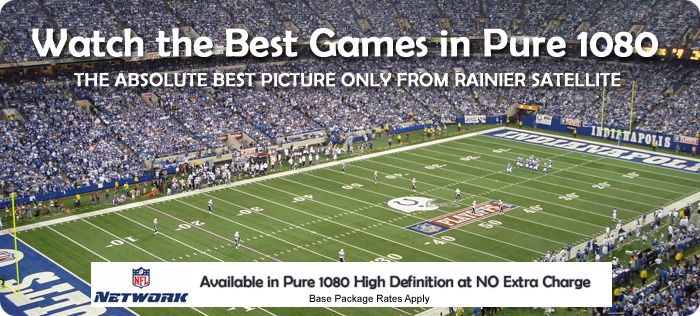 | | | | |
| --- | --- | --- | --- |
| | | | Order Rainier Satellite Soon. |
DTH C Band Satellite Programming Provider.
Commercial C Band Satellite Programming Provider.
Cisco SD / HD Subscription Receiver Sales.
PowerVu Subscription Activation Center.
C Band Equipment and Accessories Sales.
..... Watch the Best Satellite TV in Pure Quality HD only from Rainier .....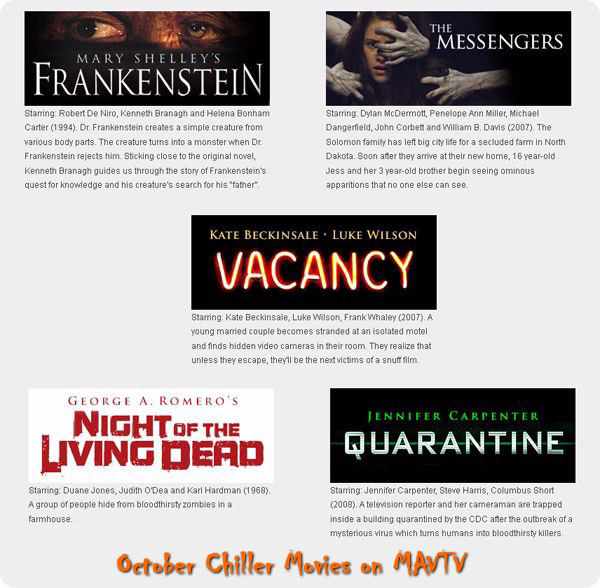 .....Programming in Rainier's Exclusive 1O80 Pure Quality HD.....

Why Choose Rainier?
The Best Quality Picture... Pure Quality HD...
Only From Rainier Satellite!


No One Compares. Read on...
Are you watching your HDTV picture the way it was meant to be seen?
Not if your watching
many of the major television services
that claim to provide high definition audio and video. These services
over compress and bit-starve the picture and sound quality.
This is meant to make the transmission smaller in size and cheaper for the service providers, but not for you. What
you are left with
is
a soft, dulled image, with macro-blocking
| | |
| --- | --- |
| | and mosquito noise which is experienced as large and small square blocks of color, and fuzziness around images. These are digital artifacts that fill in the lost data. The sound quality is not immune to this downgrading as bits and pieces of the audio is lost as well and filler is added. Providers that do this only offer second or third generation signals, copies of copies, and do not provide the full bandwidth needed for a high quality picture and sound. |
You spent your hard earned money on an HDTV and a sound system that is capable of delivering a much better quality then your getting from these services. Wouldn't you rather get your moneys worth and truly experience HD as it was meant to be?
How?
| | |
| --- | --- |
| | With the help of Rainier Satellite's Ultra High Bandwidth HD programming services. Our programming is different than all the others. You receive it via C-band satellite. (this ensures no weather related issues and provides broadcast quality signals) These are very high quality Pure1080 Razor Sharp HD signals. The Rainier signals are not over compressed and rival blu-ray quality or better. Sharpness, detail, and color are breathtaking. The sound quality of your home theater system benefits too, since it's also not bit starved due to insufficient bandwidth. |
We also do not bitstarve our SD channels. We use higher bitrates on SD that most other providers use on HD. This assures our SD quality is top shelf. We provide DVD or better quality SD. Both the HD and SD picture quality we provide for you looks excellent even on a large 100 inch screen. Rainier stands for Quality not Quantity.
Isn't it time you see what your missing, and get what you paid for with that HDTV and home theater sound system? Get Rainiers Satellites HD / SD programming services, and receive the best picture and sound quality money can buy.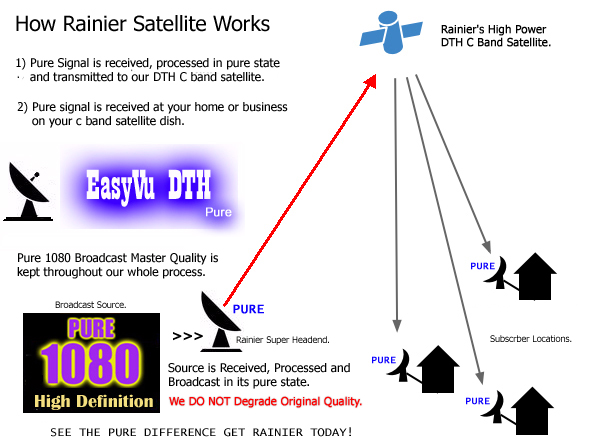 EasyVu DTH Platform Has Arrived from Rainier!

It's Here the Best Addition for C Band Satellite TV Ever.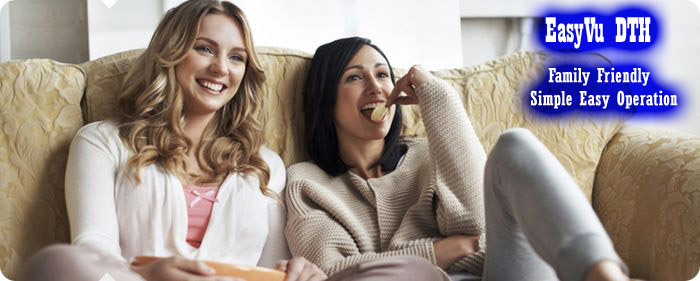 Details About EasyVu DTH:
Easy one satellite DTH access positioned at one location in the sky.
High Power Satellite. Works with smaller C band satellite dishes.
No weather related reception issues (rain / snow outages like small ku dish systems).
No long term outages like cable systems.
Simple receiver operation and channel tuning for all family members.
National 50 State Subscription Programming Coverage.
Channels broadcast using Rainiers 1080 Pure HD Ultra High Bandwidth system.
All channels utilizing Cisco's secure PowerVu encryption.
No dish mover needed for EasyVu DTH single satellite platform.
EasyVu DTH One Satellite Direct To Home Platform
EasyVu DTH simplifies installation and operation. By placing our channels on one very strong direct broadcast C band satellite, this adds... Easy channel access using the Cisco D9865H receiver. A fixed smaller C band satellite dish, and one receiver can be utilized resulting in less start up cost for new users. All encryption platforms are now made compatible for our use with our PowerVu content management system. Broadcast original picture integrity is kept thanks to Rainiers 1080 Pure HD Ultra High Bandwidth system. The Future has Arrived for your 60 inch plus HDTV.

Download the EasyVu DTH Promo Sheet Here
| | |
| --- | --- |
| | 2014 is the Year of Rainier Satellite's HDTV Excitement |
Rainier Satellite Programming is not limited to your Home.
Introducing Rainier Satellite for Business.
| | |
| --- | --- |
| Boost your business revenue potential with Rainier Satellite. We know that great television is not limited to your home. Your customers Boost your business revenue potential with Rainier's access to the best programming that television has to offer, at the best possible rates. Own a Sports Bar, Restaurant, etc. Have a 60 inch plus HDTV screen? Tired of the important game going out in the rain? Own a Hotel, Motel, Cruise Ship line, etc and need programming for your guests? Then Rainier is for you. Contact our Commercial Department for more information. | |
---
Realtime PUBLIC LAUNCH STATUS APP: Updated



CORPORATE NEWS ANNOUNCEMENTS

3rd Party Tracker / Mover Association Ended

May Update

Early Rollout Update






Pure only from Rainier

Rollout Status Monitor




| | |
| --- | --- |
| LEVEL | STATUS |
| Testing Program | Active + |
| Early Rollout Testing | Active |
| Programer Contracts | Active |
| RTC Tracker Design | Active |
| Early Rollout Public | Pending |
| Full Rollout Public | Pending |
| PLATFORM | STATUS |
| PowerVu | Active |
| Basic Dish Mover | 4DTV |
| EasyVu DTH | Active |
| Moble | Future |
---
Pure Master HD signals from our PowerVu Pure Platform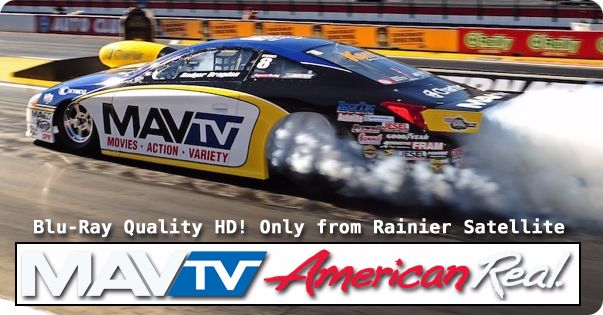 Check out Rainiers

PowerVu Pure Platform in Action on MAV TV.

Click on images below for full size
Check out Rainiers

PowerVu Pure Platform in Action on NFL Network.

Click on images below for full size


Rainier Satellite LLC continues to move forward.
As the Cisco Rainier C band platform continues to grow and overcome obstacles in its path, Rainier is putting together the best possible turnkey solution to be released to the end user. It's taking a long time but will be all worth it when released. Rainier refuses to bow to peer pressure and launch a half baked system just to appease those in a hurry. If its worth doing its worth doing right, even if it takes longer to get there. We appreciate your patience and understanding as we grow.



Rainier to carry Satellite Dishes and provide installation at your location.
Our Dealer team is working on a network to have professional installers come out to install the proper dish needed for our channels. If you don't have a c band dish now, Rainier will be able to provide them and installation if you need that also. We are dedicated to C band.



Early Rollout Tester Program has Commenced.
Rainier Satellite LLC is proud to announce that Rainiers Early Rollout Program has now begun full testing stage. This commenced March 3rd 2014. This testing phase for testers currently, is designed to work out any issues ahead of time with multiple programming services, signal etc, before public early rollout. Once completed we will progress to public early rollout mode and make it available to the mainstream public. Rainier's call center will be in place at that time and able to take orders for receivers and programming. The future of C band satellite is here. Stay tuned for future updates.
| | |
| --- | --- |
| | Rainier Satellite is proud to announce that we will be providing the full channel lineup from ES Entertainment. They will be launching in our 2014 lineup. |

Early Rollout Update Letter from Rainier Corporate read...



Official Rainier Press Release from Cisco Gold Partner SIGMAnet. read...



Cisco's Policies and Procedures Concerning Receivers. read...



8 Foot Dishes working well with our testing program. more...
For directions to get your C Band system ready for Rainier's Programming click here
Our Mission Statement
Our mission is to provide our clients with the highest quality of customer service, by committing ourselves to be the best through continuous improvement. We are dedicated to delivering an exceptional experience for every client. We pledge to make a difference for our clients by focusing on integrity, respect and loyalty.
---