C Band Satellite HD Programming Provider

New Channels From Many Programmers are being Acquired Daily.
Channel Lists and Rollout Packages are Coming Soon!
Are you looking for choice?
Are you tired of overpaying for popular cable and satellite channels?
Tired of being forced into long term contracts to get those channels?
Tired of poor HD & SD picture quality on that expensive HDTV?
Are you looking for Hi Def Channels in Blu-Ray Quality HD?
Tired of rain / snow outages, being down during or after a storm?
Tired of channels going away on the 4DTV system?
Then you need Rainer Satellite's television programming!
At Rainier Satellite your never charged a monthly HD access fee like
with other providers. HD is included free with your standard rates.
For directions to get your C Band system ready
for the Rainier Programming click here
We are a Multi Platform HD / SD Provider. HD Channels are found on
the Cisco PowerVu Platform. Other Platforms may be in SD only.

Some Channels may require either Cisco PowerVu or Motorola Digicipher
receivers or both. Rainier Satellite will carry receivers needed for all platforms
The following is a list of programmers and or channels we have acquired and or working with to acquire. Logo's are copyrighted to their respective owners. All Rights are Reserved.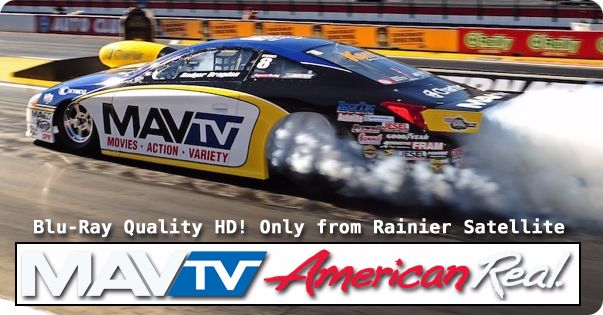 WGN was one of the first services on C band. They are proud to be part of C bands rebirth!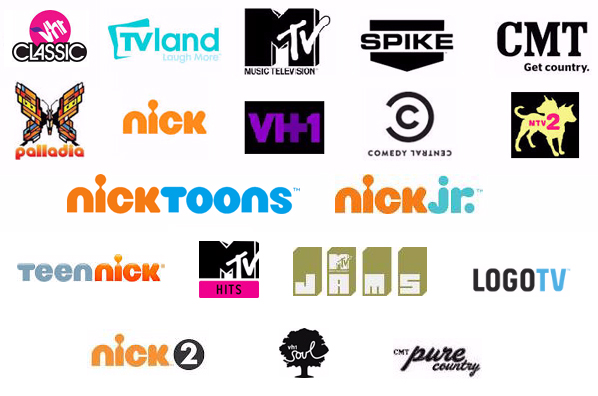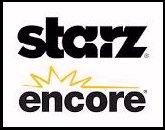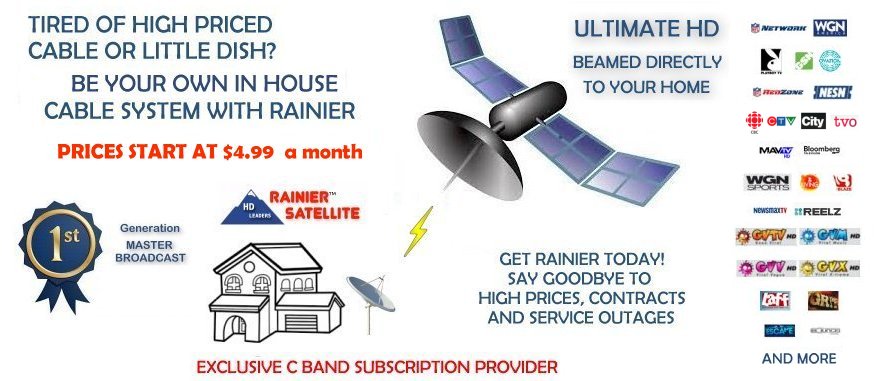 Starz & Encore Movie Channels will be offered on our Advanced Digicipher Platform.
We are currently working with many programmers to carry their channels. To speed up launch and public rollout, not every channel listed above may be available at rollout. Some channels may take longer due to contract negotiations or need to be on the advanced Digicipher platform that will be available at a later date. These will be added to the growing list after rollout. Rainier will continue to work to add channels as time goes on. We are dedicated to C band. We promise to bring the best back to the C band satellite platform.
A full rollout channel list will be posted at launch.
Sample C Band Broadcast HD Master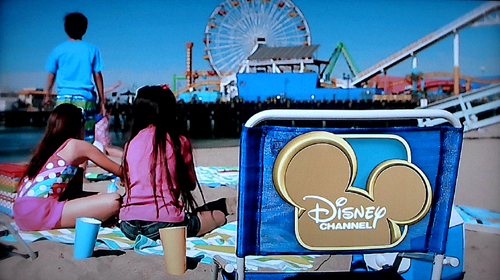 click image for large size
C Band PowerVu Multidecrypt Subscription Activation Center
The Best Prices and Quality Picture, Only Available on C band
Multi Platform Programming Service Packages
The Advantages of C Band Programming.
(One of our platforms)
C-Band systems have the ability to deliver thousands of channels of programming. C-Band satellite systems deliver far superior picture quality over what the small satellite DBS systems, and cable TV can deliver. The master broadcast (first generation) signals are delivered on C-Band, this can not be found anywhere else. We make this available to you direct to home.

One of the biggest problems with small satellite DBS and cable is the poor SD and HD picture quality they provide. This is due to a lack of bandwidth and overcompressing the signal. With the advent of HDTV's with screen sizes up to 100 inches. The poor quality by those providers cannot deliver what the HDTV needs for a sharp clear image. C Band satellite is not limited by bandwidth problems and can even provide the new 4K Ultra HD 2160p signals. (our HD receiver is 4k ready) This assures the best quality picture for your HDTV.

C-Band satellite is also not affected by heavy rain and other weather related conditions like the smaller DBS-type satellite systems. C-Band satellite systems don't go out like cable TV often does after a thunderstorm. C-Band is the delivery method of choice used by virtually every TV and radio station in the U.S. to receive their network programming feeds. The broadcasters chose this because of its advantages over other delivery systems.

C Band programming costs have historically have been less than any other pay systems, this will continue. This combined with choice and other benefits make it a win win situation for those who choose C Band.